SKC CBI Logos Vector File Downloads
This page contains Vector PDF and EPS files of the SKC Grounded and Charging Bison (CBI) logos. These should be easily editable in most graphic design software.
If you any problems or need any of these in a different format feel free to send your request to marketing@skc.edu.
For the SKC Seal please contact marketing@skc.edu directly.
DOWNLOAD THE CHARGING BISON LOGO
Download an EPS or PDF of your desired logo below by clicking on it.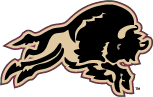 The following files contain the Charging Bison Logo with the approved outlines. It is not necessary to use any of the outlines. The "TM" is required with each use of the Charging Bison Mark, though the size is dependant on the design.