CHARGING BISON & DEPARTMENT TITLE LOGO
A system of options for departments and programs to use their name along with SKC's.
It is recognized that SKC is made up of multiple departments that have their own individual identities. Although we want to foster the uniqueness of each SKC department & program, it should also be a reflection of the college as a whole. As such we have developed a series of Charging Bison marks that accommodate SKC's name or initials as well as the name of individual departments or programs.
These marks are available upon request by emailing marketing@skc.edu.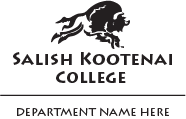 VERSIONS OF THE CBI & DEPARTMENT/PROGRAM LOGO
The CBI & Department/Program logo has also been produced with two orientations in mind. The original horizontal orientation and the more recent "stacked" version. A variety of each orientation are available to choose from. You are not limited to using only one orientation for your department or program.
Horizontal versions of the CBI & Department/Program Logos




"Stacked" versions of the CBI & Department/Program Logos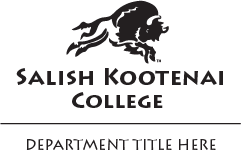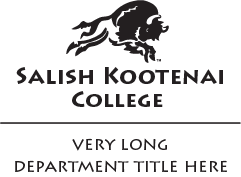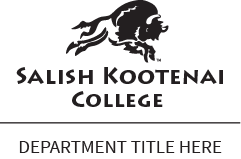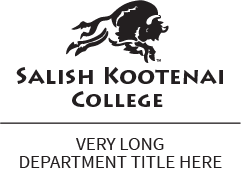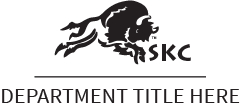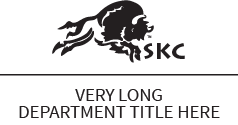 APPROVED COLOR COMBINATIONS
The Charging Bison Institutional logo can be used in either of the approved primary colors, and white. All elements of the logo must remain a single color.
Take special note that maroon is not in the list of approved color combinations
As "Warm Grey" is one of the SKC Official colors it is acceptable to put the CBI Logo on a Grey background. Provide for adequate contrast when doing so.
SKC AND DEPARTMENT/PROGRAM TITLE NAMING CONVENTION
In some promotional products application e.g. pencils, pens, key chains, it is likely that the Charging Bison institutional logo and department/program name will not be practical to print. In these cases it is permissible to use Salish Kootenai College first and bolder, followed by the department/program name. Ideally the fonts used will be either Lithos Pro or Source Sans Pro. The arrangement can be either left or center justified.