Our colors are an extension of the rest of SKC's visual identity. As an institute of higher learning in Western Montana and amongst other Tribal Colleges and Universities our marketplace is a tight one, our colors help us shine out as the beacon of leadership and service that we are. Our primary colors of Vegas Gold, SKC Black, and Warm Grey have been adopted to illustrate our distinctive vision.
For years, SKC Maroon was the color that represented our college. In Western Montana however, Maroon means one thing, and it isn't Salish Kootenai College. While we will still use SKC Maroon it is to be used sparingly as an accent to our primary colors.
Our tertiary colors round out the SKC color palette. These are simply colors that have been approved to compliment the primary and secondary colors as accents when needed. In no case should a tertiary color be the predominant color in a layout or arrangement.
Please contact the SKC Marketing Committee if you have questions regarding the use of our colors.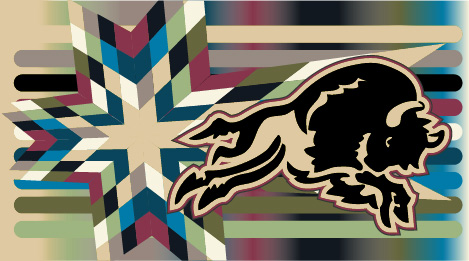 VEGAS GOLD
Pantone 468 C
Pantone 7501U
R-223 G-201 B-162
C-12.38 M-18.13 Y-38.54 K-0
HEX #dfc9a2
SKC BLACK
Pantone BLACK 6 C
Pantone BLACK U
R-0 G-0 B-0
C-75.02 M-67.97 Y-67.02 K-90.16
HEX #000000
SKC MAROON
Pantone 506 C
Pantone 1955 U
R-136 G-53 B-77
C-36.5 M-87.48 Y-52.97 K-24.28
HEX #88354d
WARM GREY
Pantone WARM GREY 7 C
Pantone WARM GREY 8 U
R-151 G-139 B-130
C-42.12 M-40.96 Y-45.55 K-4.56
HEX #978b82
DEEP WATER
Pantone 3035 C
Pantone 2965 U
R-9 G-69 B-92
C-95.9 M-66.62 Y-43.99 K-30.71
HEX #003e52
LAKE BLUE
Pantone 7690 C
Pantone 307 U
R-0 G-123 B-169
C-87.05 M-43.4 Y-16.8 K-.73
HEX #007ba9
LIGHT PINE
Pantone 7750 C
Pantone 455 U
R-102 G-102 B-61
C-55.84 M-44.61 Y-83.09 K-27.39
HEX #676635
SPRING BUDS
Pantone 577 C
Pantone 577 U
R-153 G-179 B-125
C-43.41 M-16.18 Y-62.23 K-.23
HEX #aac37d
BITTERROOT BLOSSOM
Pantone 205 C
RGB 224, 69, 123
CMYK 6, 88, 27, 0
HEX #e0457b