Marketing Green Light Review - KiSS Flow
Whether it's old hat or you've never heard of KiSS Flow it would probably be nice to know what this process has in store for you.
The KiSS Flow workflow of the Green Light Review is in place to ensure the SKC brand standards are met with each piece of marketing material that leaves the college, and that those standards based designs can be associated with the correct POs. Then those PO's and those designs are forever associated, making the retrieval and referencing of each much easier.
The following is a run down of how to start a Green Light Review KiSS Flow form. And, what each of the fields, buttons & dropdowns mean.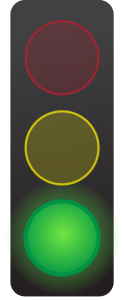 Before you can start a form you first need access to it. To do this email Al_Anderson (at) skc.edu with the request to have access to submit a Marketing Green Light Review request in KiSS Flow.
Please allow for adequate time to process your request.
Now that KiSS Flow is open lets get started with a new "Marketing Green Light Review" request form.
To start select the red and white "Plus sign" icon near the bottom on the right.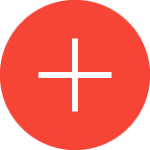 From the following screen select INITIATE next to "Marketing Green Light Approval". You may have to scroll down to find it amongst the other KiSS Flow forms.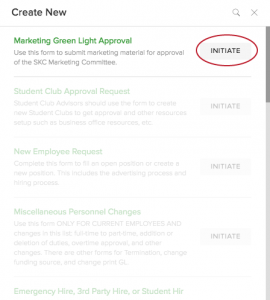 The following is a description of what information needs to be put in each field of this form.
Since you are already logged into KiSS Flow this will be pre- populated with your name. You cannot change this.
Since you are already logged into KiSS Flow this will be pre- populated with your name. You cannot change this.
The department/program responsible for paying for the materials that will result from the production of the design being submitted.
Give your project a name that might set it apart from the same type of project that you might be producing 6-months from now.
When does this project need to be completed and in your hand (or to press)?
Select what category from the drop-down list your project falls under.
This drop-down helps KiSS Flow direct the request to the proper reviewers. Generally the category we will be selecting will be "New Submission". However, once a design has been approved and has minor changes (ie; content, phone numbers, emails...) you can select "Minor Change to Approved Submission". Each of these takes the request down a different path.
Department/Program that is being advertised
Generally this would be your own department, but there may be occassions that call for your department to advertise or promote a different program or department.
If you are submitting an audio or video piece there are a few new reviewers that are brought into the process to ensure a proper and professional presentation of SKC.
Link to A/V Material (DO NOT UPLOAD)
Please provide a link (youtube, vimeo, wystia...) to the file to be played. In many cases, files such as these can be to large to retain in the KiSS Flow system.
Who will you be paying to produce this piece? Select "ADD NEW ROW" to add your first and subsequent vendors to the form. This helps provide greater connection to the Purchase Order that this request will eventually be attached to.
Project Files(s)/Images(s)
This is what we will be reviewing. Attach all the files that will be used in creating the products in the project. Select "ADD NEW ROW" to add your first and subsequent files to the form. The preferred file type is .PDF, although jpg, and png will also be accepted.
To be used down the road in the reviewing process if necessary. Do not use for submitting a Green Light Approval request.
If you feel that there is more information that you would like the reviewers to know enter it here.
Pretty self-explanatory. It removes the form without saving or submitting it.
Saves the form as a draft without submitting it. You can come back to it later to finish it.
Again, pretty self-explanatory, but this kicks the whole review process into gear.